The Little Red Beast
I took delivery of my Rubicon in December of 2016. It is a JKUR (JK Unlimited Rubicon) with the Hard Rock package, which basically means it has Dana 44 axles with electric lockers at both ends, a powered swaybar disconnect, an upgrade transfer case (the NV-241 "Rock-Trac" case has a 4:1 reduction instead of the Command-Trac's 2.72:1), NSG370 six speed manual transmission, all powered by the 3.6L Pentastar V-6 engine. It came from the factory on 32 inch BF Goodrich Mud-Terrain tires on 17 inch wheels, which suited me just fine.
It's a hard top, but the top can be removed in pieces. Called the "freedom top," there are two panels above the front seats that can be removed to let the occupants of those seats enjoy the sun and sky. It is possible to remove the entire top of the vehicle, but as I have in the past found myself above twelve thousand feet in an August snow storm, or driven all night through the mountains in driving rain, I was not inclined towards the rag top. I've taken a lot of flak from well-meaning buddies about that, but hey ... it's my comfort we're talking about, right?
Inside there is the optional 9-speaker plus subwoofer Alpine Audio Package, connected to the standard AM / FM / CD player. Yep, you read that right, no fancy flat screen interactive navigation system for me. I grew up with maps and a compass, and after the technology was developed treated myself to a damn good handheld GPS receiver (a Garmin GPSMAP64st with some added goodies), so I figured that the in-dash nav display, et. al., would just be one more thing that would need fixin' down the trail. I can connect my phone or iTouch to the U-Connect system in the standard radio receiver and hear all my tunes, all the time, with superior sound. Perfect.
The interior was a pleasant surprise, I didn't realize that the Hard Rock package included black leather seats (with seat-warmers!) and black carpet upholstery. Even so, knowing where this Jeep would go and assuming I'd discover a lot more trails in the process, one of the first things I did was get a nice set of "Saddle Blanket" seat covers from ShearComfort Seat Covers in Vancouver, British Columbia, Canada. I wanted to protect those nice leather seats, and the Saddle Blankets have taken everything I can throw at them so far and have hung tough.

Sunday, 11 December, 2016. Brand new. Even the wheel wells and frame rails are shiny ...

But as any Jeep owner will tell you, one must personalize their rig.
Here's how I've done mine, so far:

3 May 2017
The very first thing I wanted to do was get some real armor between me and the rocks. To this end a full set of Rock Hard 4X4 skid plates seemed to be just the right thing for me and the LRB. As mine is an Unlimited (4 door model), I needed a bit more than than the 2-door rigs do, most of the extra covering the fuel tank. Above is a visual comparison between the factory skid plat that protects the transfer case (right), and the Rock Hard 4X4 product (RH-6004). The stock unit is cast aluminum. The aftermarket unit is 3/16-inch, laser-cut plate steel, CNC bent and jig-welded.
Note that there is no factory skid plate protecting the engine or transmission!
Below is the Rock Hard 4X4 fuel tank skid plate (RH-6001). This does not replace the stock unit, but rather fits over it. Together the two provide 1/4 inch of plate steel protection for your fuel supply. It is also 3/16-inch, laser-cut plate steel, CNC bent and jig-welded.


Above, we are looking aft from beneath the front bumper at the installed Rock Hard 4X4 engine / transmission skid plate (RH-6003). It is made from the same 3/16-inch, laser-cut plate steel, CNC bent and jig-welded. Note the door providing access to the drain plug for the transmission. Note also the "Rock Dome" protective bolt head protectors attaching the engine / transmission and transfer case skid plates to the cross member. They help deflect terra firma over the bolt head, instead of letting it crash into the bolt head. Nice touch!
Below we are looking forward from beneath the rear bumper at the fuel tank skid plate (right) and the transfer case skid plate (beyond).
I purchased all these items from 4-Wheel Parts in Santa Ana. Check their web site for information, just search on the Rock Hard 4X4 part numbers.



12 February 2018
So once I got comfortable with protection from below, I went out back. To the tailgate! Someone I work with had experienced some issues with the tailgate hinges on his JK failing after he mounted a 37 inch wheel and tire assembly on an aftermarket spare tire mount using factory mounting points on the original tailgate. Long story short, he pointed me to the MorRyde JP54-003 Tailgate Hinge Kit. These steel hinges replace the stock hinges easily. Not only are they much stronger, but the pivot point of the hinge has a zerk grease fitting. Lube it every now and then, and these hinges should carry the load and outlast the tailgate they support. I bought mine from RetroFit Offroad.
The angular plate hanging beside the spare tire is also a MorRyde product, their JP54-012 Hinge Mount RotoPax Carrier. My JK has a 22.5 gallon gas tank, but having a little extra fuel along can't hurt, right? This carrier allows me to carry two 2-gallon RotoPax gas cans out back. Helpful if your fun begins to outlast the on board fuel supply. And the carrier has a handy location for an antenna mount for a two-way radio system.
Below is the completed installation with the RotoPax cans mounted. A word of warning: If you mount two cans like I did (instead of just one like the manufacturer's picture shows),
clearances will be very tight between the cans in place and the right side tail light lens

when the tailgate door is fully open. If you, or the wind, throw your tailgate door open, you'll likely crack your tail light lens. I've done it.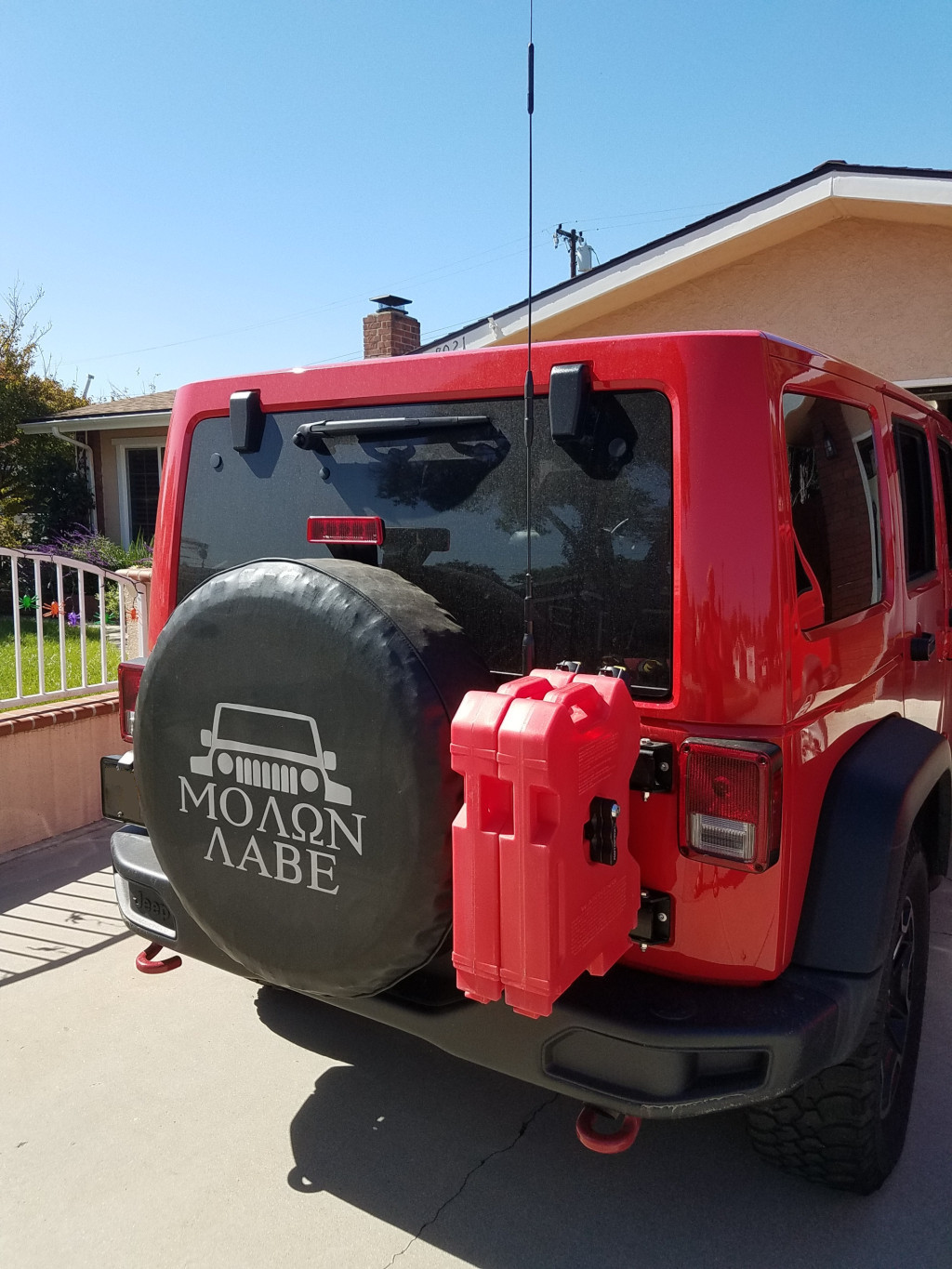 But wait ...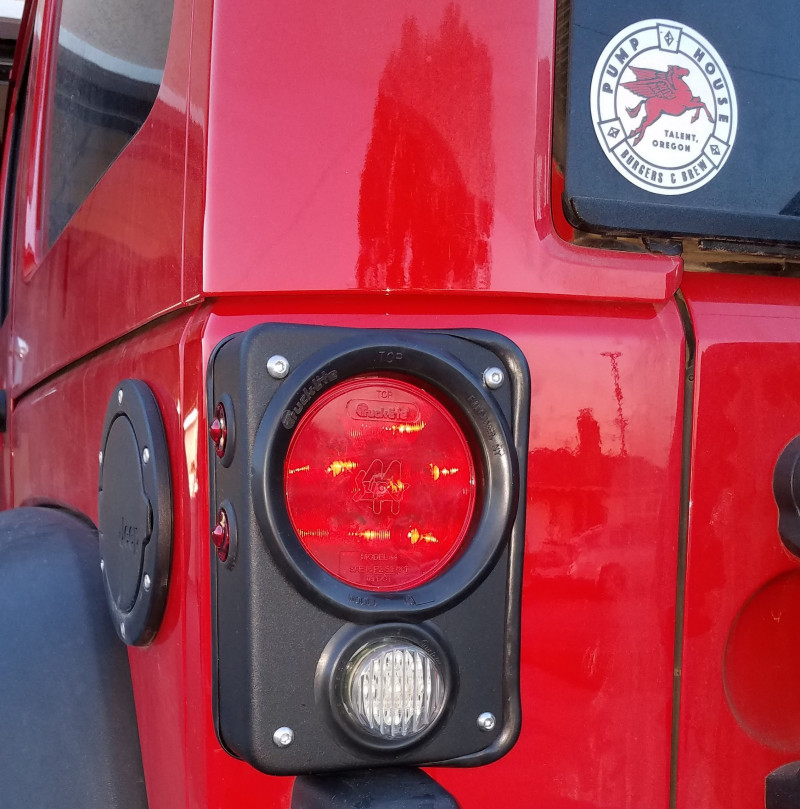 25 January 2019
This tail light issue was apparently bothering me enough that I was grumbling to my son about it. He and his wife decided that I had grumbled enough, so they bought me a Christmas present: a Warrior Products 2960 Steel LED Tail Light Kit. This solved my clearance problems! The LED assemblies mount in rubber mounts that fit into the solid steel carriers. This assembly stands off from the sheet metal of the backside of the vehicle about an eighth of an inch less than the stock tail lights. It was enough! Now my RotoPax cans and their mounting hardware clear the tail lights with the tailgate door fully open. Sweet!
The 4" grommet mounted tail / brake / stop lamps are Truck Lite Super 44s, easily found at virtually any truck stop, and probably any of the better equipped RV supply or auto parts stores.
The 2" grommet mounted backup lamps are another story, unfortunately. I can't tell who makes them, and have thus far not been able to find something suitable on line to replace them with. They just don't throw that much light.
And yeah, this is the driver's side assembly. I got excited about images before the passenger side assembly was fully installed ...


17 March 2018
I wheel solo a lot, so I try to be ready for anything. To that end, I figured a good winch would be great insurance against long walks in the dark. Above we see me about halfway though the task of mounting a Warn Zeon 10S winch. I quickly figured out that the winch plate 4-Wheel Parts recommended wouldn't work for me, I instead chose a Maximus-3 HR1009WZ centering plate. The Maximus-3 product is specifically designed to center-mount this winch on the Rubicon Hard Rock bumper. It all fit like a glove. Once I got over that minor hurdle the rest was fairly easy, although it took me a little over a day to get the job completely finished, which included the installation of a Rock Hard 4X4 RH-4004 License Plate Mount. See the finished result below.



28 May 2019
And now for some "little stuff" at the other end of the rig.
On the left side above we see a couple of white, 2-gallon RotoPax carriers for water. They are mounted on a Garvin # 66790 Interior Roll Bar RotoPax Can Mount for Hard Tops, which I bought from Extreme Terrain. With these I always have four gallons of water that is always with me, wherever I go.
There is an H3R Performance 2.5 pound MaxOut Dry Chemical Fire Extinguisher just below the RotoPax cans. It is bolted to the support for the upper of the two ammo can carriers on that side. These carriers are MorRyde products. The upper carrier is their part number JP54-030, the lower part is JP54-031. A duplicate configuration is on the right side of the cargo bay. I use the ammo cans for carrying first aid and recovery gear, and a few of the "just add water" type meals (made by Mountain House). It's enough to get BB and I through a few days in the rough, should that be necessary. The ammo cans came from an outfit called Ammo Can Man. I bought several different sizes for 50 caliber, including a few Fat-50s and a Tall-50.
The WypAll towels are always handy for cleaning up messes. I always have a box with me, they're much sturdier than the typical kitchen paper towels. In fact, in a pinch, you can rinse them out, dry them in the sun, and re-use them.
There is a large Husky tool bag secured to the floor between the ammo can carriers. Under that back seat is an Off Road Jack Base by Hi-Lift, their part number ORB. There is also a Hi-Lift Lift-Mate in the tool bag, Hi-Lift's part number LM-100.
Not very visible here are an old, foldable, small shovel and a 5.11 Tactical Operator Axe on the left, and ten feet of air hose on the right. Recently I added a Silky Saw Katanaboy 500 and a replacement blade to the left side. I'm told these are the kind for cutting firewood and clearing fallen trees from trails.

(The following section was expanded upon 3 September 2019.)
My cousin Monica, who partners with LRB's cousin LPB, was asking me some questions the other day that prompted me to add some information about the ARB air compressor mentioned below.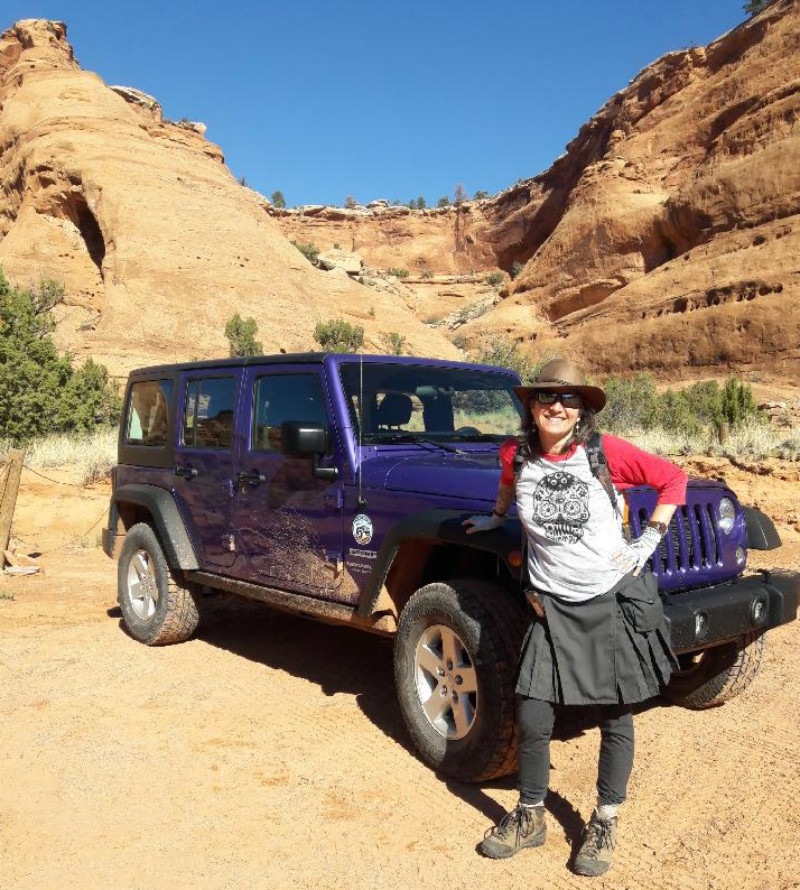 Monica and the LPB
I have a small, portable ARB CKMA12 High Output Air Compressor that I bought from Extreme Terrain. It is designed to bolt onto the vehicle somewhere ... under the hood, between the frame rails, etc. I made some modifications to the wiring and did a little modification work to an old wooden box I had, and now have a fully portable air compressor that works perfectly with that air hose in the cargo bay to refill tires before I get back on-highway. It is nicely protected, so I have no qualms about throwing it in the back of the LRB and hitting the trail with it.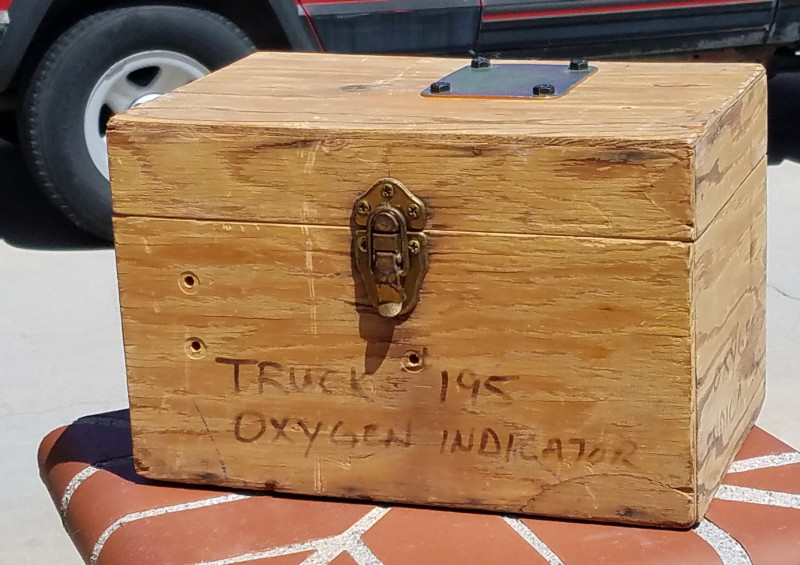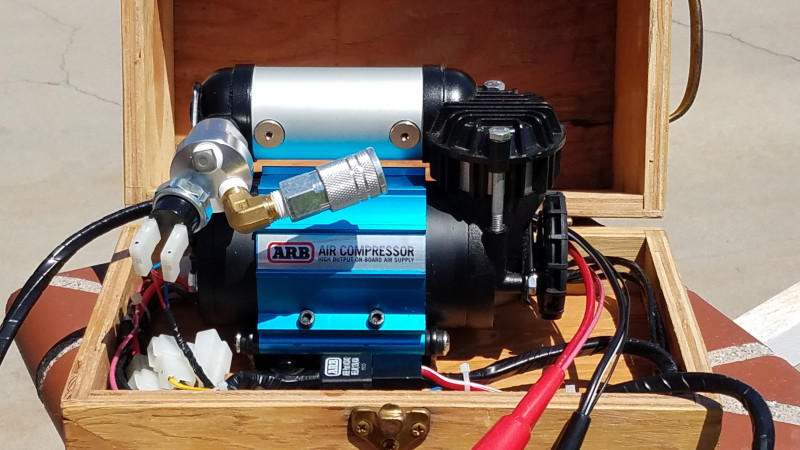 | | |
| --- | --- |
| | |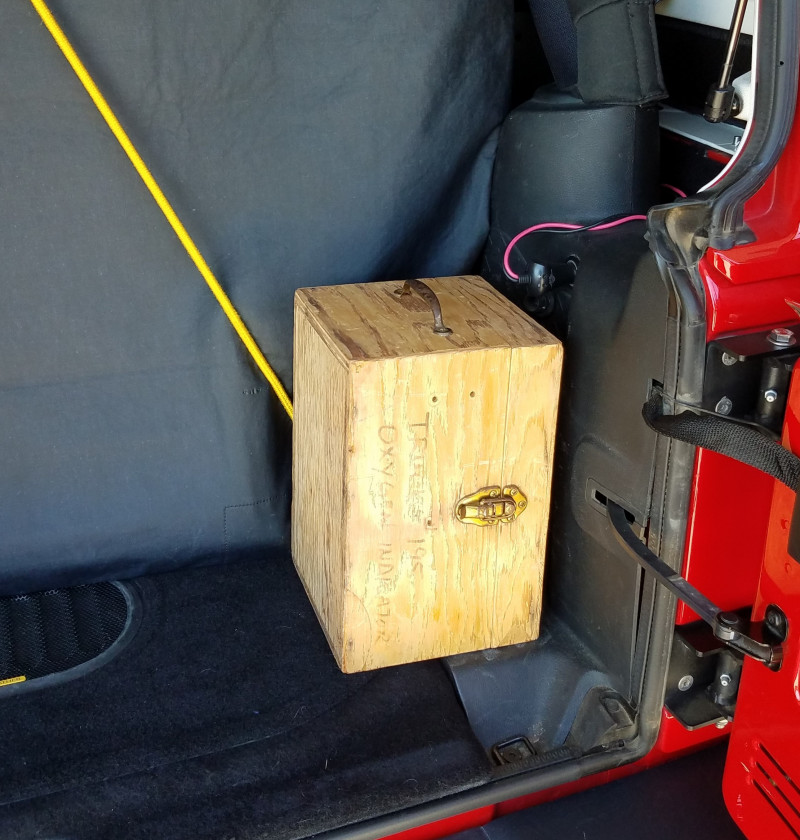 Some of you may have noticed the small electronic device hiding between the right ammo can carrier in the cargo bay and the wheel well. For you radio nerds, it's a Yaesu FT-8900R quad-band FM transceiver. I won't bore you all with specs or a description, suffice to say it's how I stay in touch with the outside world. The control head for this radio is nicely wedged between the gear selector and the bottom of the dash in my rig, and is visible above.
Also visible is the Tuffy Security Products 293 JK Conceal Passenger Side Security Drawer. It was a gift from Vicky the Christmas I took delivery of the LRB. I have alternate CCW methods, so I use this to carry tools related to tire maintenance and repair in it, along with some hardware for the Hi-Lift jack mount. Visible is the Smittybilt 2733 Tire Repair Kit and the ARB505 E-Z Deflator Kit (Brass). I got mine from 4 Wheel Parts in Santa Ana.
Finally, way up high above the steering wheel, one may see one of the GraBars Solid Grab Handle for the JK. I bought a pair of these, and they are awesome. 3/4 inch solid steel bar with a padded handle. What's not to like? I got them at RubiTrux. I later added a set for the rear seat occupants as well.


And finally there is the Hi-Lift jack. With those RotoPax gas cans hanging out in the back, I needed a place to mount this where it was convenient, but not a distraction. I've seen a lot of Jeeps with a Hi-Lift mounted on the hood. I guess I just don't want to see that, or hear it, bouncing around while I'm wheeling. So I got this instead, another Maximus-3 product from RubiTrux, a jack mount designed especially for the Hard Rock front bumper.

16 December 2018
A little history. Altimeters have been a part of my four-wheeling experience since my father taught me to drive in his new '71 Jeep Wagoneer (yeah, I'm that old). Since then, every four wheel drive vehicle he owned has had an aircraft altimeter in it. (And he's owned a few since he put 250,000 miles on that old Wagoneer ... two Cherokees, an '88 and a '96, and an '04 Grand Cherokee. The '96 and '04 Jeeps are still in the family, still on the road.) So I figured that I needed to carry on the tradition, as I had been willed the two altimeters he had. Trouble was, the '17 Wrangler Rubicon doesn't have a lot of room in the panel or under the dash for something like that, so I had to get creative with things.
Above is my altimeter, mounted just below the footman above the rear view mirror. I used a Rugged Ridge 11503.95 CB Radio Mount Bracket, a couple of shiny new hose clamps, and some heavy duty felt pads to securely (and quietly) mount the altimeter where I can clearly see it. I got the mounting bracket from Extreme Terrain.

7 June 2019
I plan to eventually get into overland camping, once I have retired and have the time to devote to such efforts. In preparation for that, I mounted this 2" Receiver Hitch with Wiring Kit from Quadratec to the rear bumper. The installation wasn't as seamless as the video implied, but a little time removing the welded-on nuts from the receiver allowed me to use the factory hardware the LRB came equipped with. A "Venderizer" made short work of that, and the included wiring kit made hooking up the 4-pole electrical connector to the vehicle electrical system literally a 15 minute job.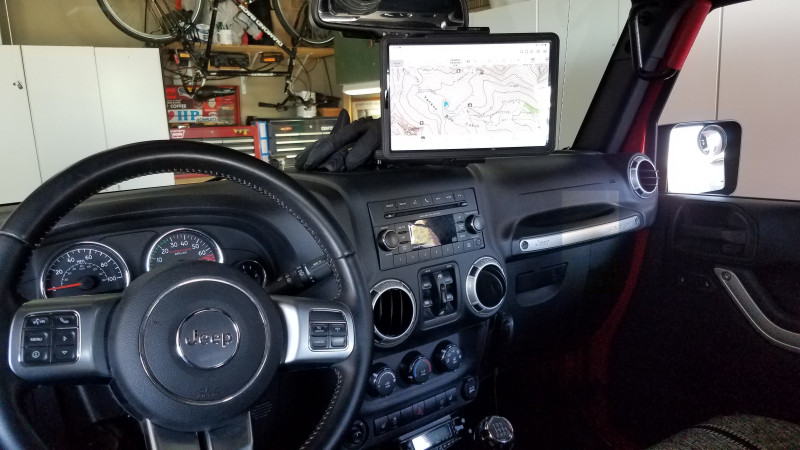 16 November 2019
So my kids came to my rescue again, after listening to me grumble about what I had been using for mapping software on an iPad. Let me start by saying the Samsung Tab S5e was already in my possession. What makes that tablet cool is the hardware from 67 Designs and Joby that allows me to have it instantly available to me anywhere I go in the LRB. 67 Designs has a selection of JK-specific parts that allow one to mount any phone or tablet to a base in the "pocket" in the top center of the panel. I was given the single-ball JK Mount with the Universal Mount for a smart phone with the matte finish arm. While the universal mount for phones fit my Samsung Galaxy S7 just fine, I wanted to use the tablet, which was a wee bit too wide for the universal mount. Enter Joby with their Grip Tight Mount PRO Tablet. Mating this to the end of the 67 Designs arm also required a Camera Mount adapter from 67 Designs. It all bolted together in just a few minutes after I let the base mount adhesive cure in the panel pocket overnight. What you see above is the result. When I want to use it, my Tab S5e is right there where I can easily see it, but it does not restrict my view of the trail at all.
But that's only half the story. I had been using the free version of Back Country Navigator, along with plenty of desktop time at home with Google Earth and a quadrangle map viewer. Enter Gaia GPS, for which I was given a Premium 5-year subscription. Did I mention I love my kids? Tons of maps to choose from, including historical (1930) topos and recent (2016) National Forest Service maps. My two favorite things, quads and NFS maps! On a tablet! In my Jeep! In motion outside of any cell network connectivity! I'm livin'!
So now I am ready to navigate like a pro. OK, there's no tracking radar, but I've got superior mapping and navigating ability and radar weather data as well.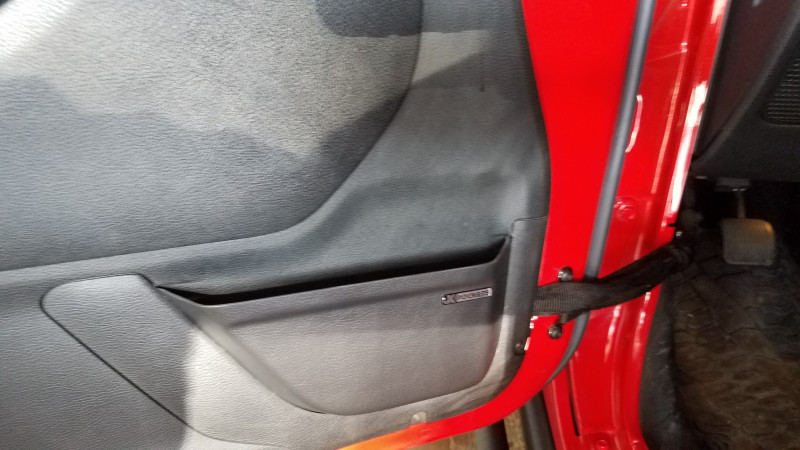 25 April 2020
The JK series came with some storage pockets in the doors. They were made of some sort of fabric netting which stretched horribly over time, to the point where things stored in them would wind up getting slammed in the door frame because they hung so low. I replaced these stock storage pockets with JK Pockets from Slickrock Gear. These are made of a hard plastic material that roughly matches the inside door panels.
A word to the wise, while these look approximately the same size as the original net pockets, they will not hold as much. Particularly (much to BB's dismay), they will not hold an iPad comfortably or safely due to proximity to the door armrest, and it is not wide enough to comfortably store my holstered Beretta 92F. Also note that as I enter this data (30 June 2020), the Slickrock Gear web page seems to be down. They do have a presence on Facebook and Instagram, though.
Sorry about the focus problem with the image. It was taken in very low light.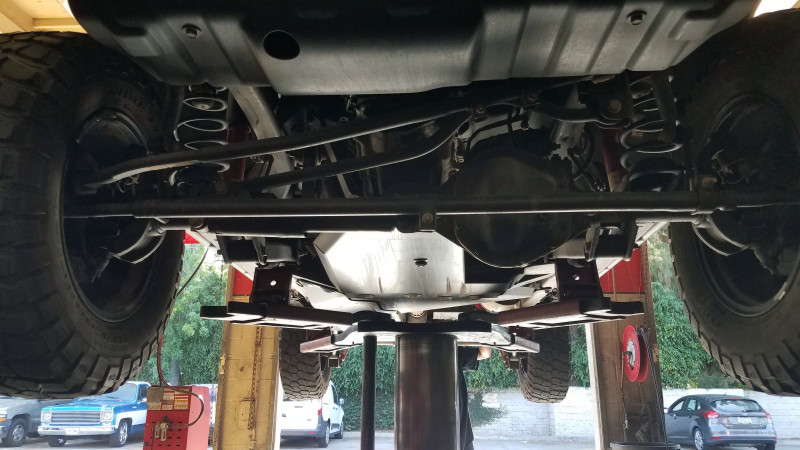 30 June 2020
It's not often that I can look at the LRB's underside ("looking up her skirts," as my friend Brad might say), without bending over or getting on my knees or back. Here we see her displaying all her secrets while I maintain my comfortable respectability, so to speak. The occasion is the installation of a set of air bags from AirLift, their kit number 60817. The LRB is up on a hydraulic lift, and I am standing beneath the front bumper as we look aft. Looks like the rear of the engine skid plate has taken two or three light to moderate hits, right?
Cook's Tire and I had some fun with this installation. So far, this is the only thing I've added to my Jeep that I didn't install myself. Why? I simply had nothing at home that would allow me to lift the rear end of that Jeep high enough to get full expansion of the rear coil springs, which is required for installation of the bags and protectors. The instructions were kind of sketchy about routing of the air line to each bag, but by the end of the day Delfino and I had it squared away.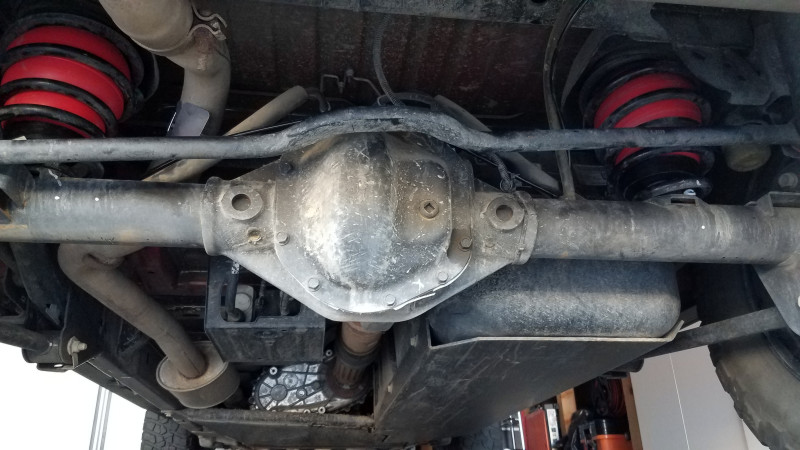 30 June 2020
Here we see the finished product. Now I can tow up to 3,000 pounds with the LRB sitting pretty, not dragging ass.

Lift
Well, I was severely disappointed with the Air Lift air bags. Epic Fail after one mission of 750 highway miles. One of the air bags broke irreparably, rendering the entire system useless. I lived with the situation, leaving the equipment there until I had some reason to have the LRB up on a hoist again.
Well ... that day finally came. The air bags are gone.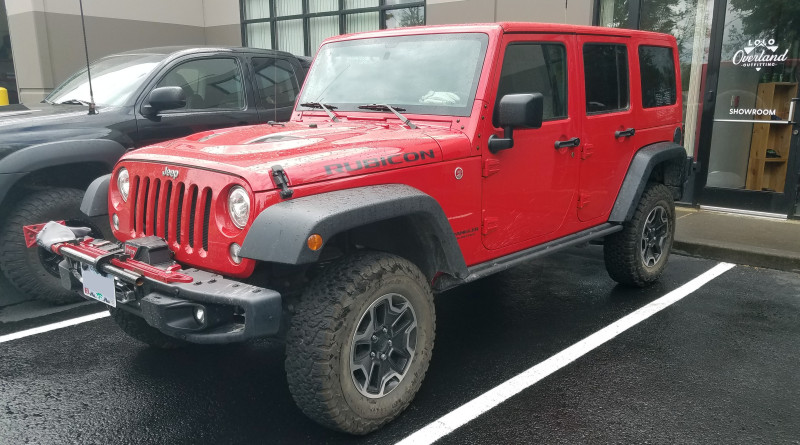 8 June 2021, Troutdale, Oregon
Not the best picture of the LRB, I know. Sitting on an asphalt pad in the middle of suburbia is not the right venue for any Jeep. But here it sits, freshly outshopped from LoLo Overland Outfitting after they installed an AEV Dual Sport 2.5" Lift Kit with the optional "Geometry Correction" Front Control Arm Drop Brackets. It is still sitting on the stock wheels (7.5" x 17") and tires (32" x 10" LT255/75R17 BFG KO2 All Terrains). Drew and Tony did a great job with the installation on a showery Tuesday morning. 600 miles round trip from home, but it was worth the trip. The 300 miles southbound felt better on the lift kit than the 300 northbound miles did on the factory suspension. I haven't used it off road yet, but will add future reflections or comments here as I do. What I will be doing a lot of in the near future is towing, so come back here for comments about that soon.
I originally heard about LoLo Overland from a fellow JK operator who spends a lot of time off-roading in a manner similar to my own. He sang praises of the AEV Dual Sport system after he had it installed on his JK, and has been overlanding with it extensively since then. Obviously I'm brand new to the lift, but his information and comments make me feel at ease with the $2140.00 I spent purchasing the kit and having it installed by LoLo. Check out Casey's YouTube channel, see for yourself.

Breathe Better
So after making several runs up and down California with a cargo trailer in tow, I started wondering about ways to make my engine work a little less while hauling the loads. I did a little research and found there are a lot of vendors in the aftermarket with whiz-bang induction systems for JKs. But I went with K&N. Why? I've used K&N equipment on another rig that hauled trailers around the country (all hail The Beast), and went with a known and trusted manufacturer. I don't think I was let down.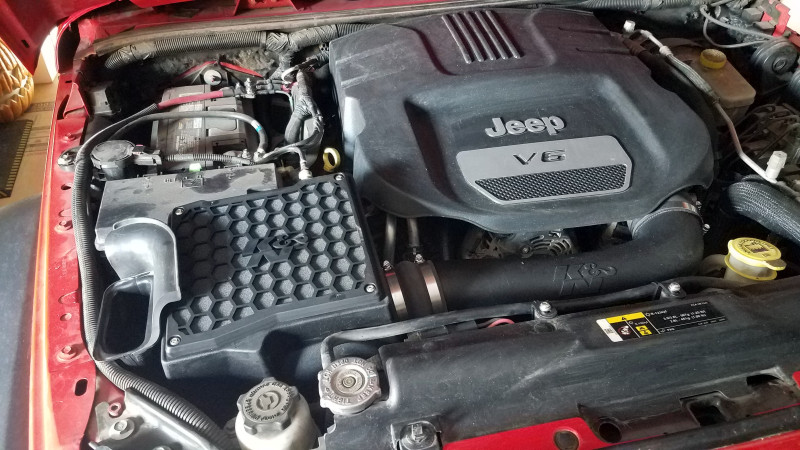 11 September 2021 - SCO Logistics shop, Talent, OR
This is K&N's part number 63-1581, their AIRcharger high-flow air intake kit. It is specially designed for the 2012 - 2018 Jeep Wrangler JK with the 3.6L V-6 engine. The kit comes complete with all parts and detailed instructions about how to remove your stock intake and replace it with this beefier replacement. It requires you to remove the oxygen sensor from the stock induction tube and install it in the aftermarket tube, but that wasn't a big deal. Just be careful ... that sensor is fragile, and even though it has a guard around it, it won't take much to break it. Then your couple of hours shade-tree mechanicals become a several days wait for that new sensor to be delivered.
All told I probably spent three hours with this, but I spent some time cleaning up other things that were revealed when I pulled the old air cleaner box out, and took my time test-fitting stuff before bolting it all together for real. I'm happy with how it turned out, and will be happy to report on any noticeable changes if anyone is interested.

On-board Air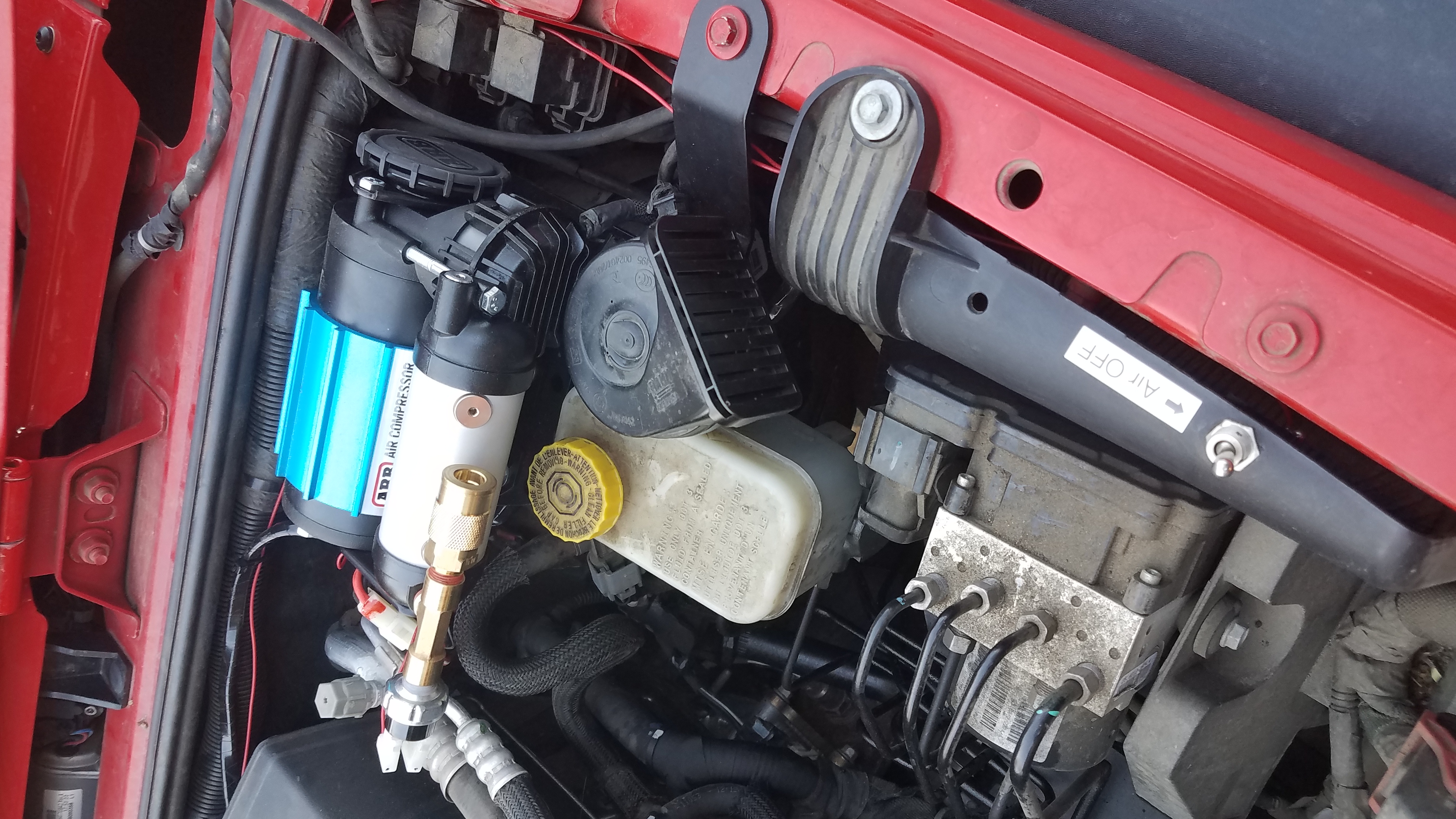 2 January 2022 - SCO Logistics Shop, Talent, OR
This is the on-board air compressor system I installed. It is the same ARB single-barrel air compressor I used to make the portable unit described above, the CKMA12, purchased from the same vendor. It is mounted on a bracket made by EVO Manufacturing, their model EVO-1097, expressly designed to mount this compressor on a 2012 - 2018 Jeep Wrangler JK. I seriously modified the factory cable harness for this compressor to eliminate all the extra connections for use with ARB air lockers, and wound up with the very simple arrangement shown in the below diagram. I was originally going to put the power switch for the system on the instrument panel somewhere, but the opted for the much easier location shown. The only time I need to power the air system is when I'm actually going to connect a hose to it, so I figured this would be an optimal location ... out of the way but very close to the equipment. The only additional parts I had to buy were the brass tee and hose coupler. I had the toggle switch in a parts box, it is a simple SPDT on-off switch.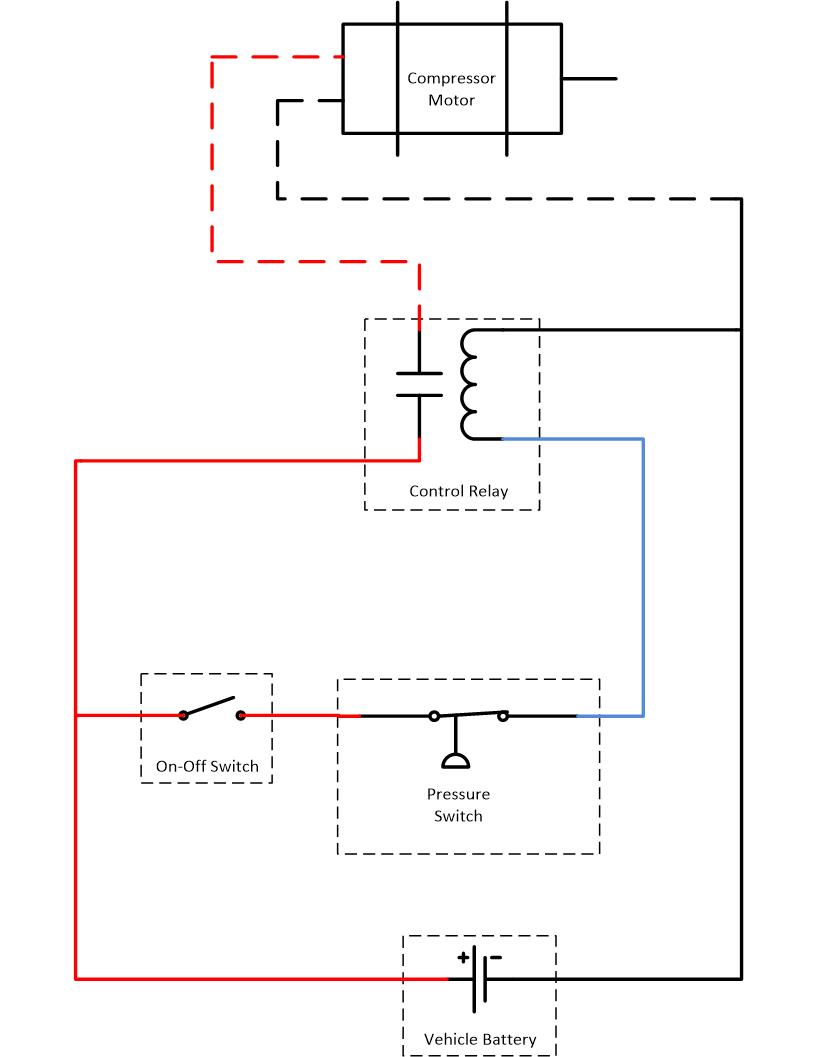 One less box to carry in the back now. I will keep the portable compressor, and maybe use it in the next off-road rig we buy.

Auxiliary lighting

8 February 2022 - SCO Logistics Shop, Talent, OR
So I've been wanting to add some auxiliary lights so I can see what's going on outside of the relatively limited field of illumination the LED headlights in my Rubicon provide. Those headlights are way-cool for on-highway driving, but don't do much to illuminate things that aren't right in front of you when you're off highway.
I did a little shopping around and found these lights from Quadratec. They come as part of a kit you can buy that includes the mounting brackets, the lamps, and a full wiring harness with all the hardware you need to get them operational. The only concern I had was that if you use the stock bolts from your JK to hold the brackets in place, the ones that are at the lower level of the bracket will be pretty short. These brackets are pretty heavy duty steel, and have some thick rubber behind them to protect your finish, and with that extra thickness the stock bolts weren't quite long enough for a good, strong connection. Fortunately I had a couple of stainless steel bolts of a similar thread size that were a quarter inch longer, and that did the trick nicely. You can see them in the image, nice and shiny, whereas the other bolt in the bracket was original to the JK.
The lights themselves are 3 inches square, and each lights has six of the 5 watt Cree LEDs in them. You can buy them in either an 8 degree spot beam or a 90 degree flood light pattern. I got the floods. Each 60 watt light produces 2700 lumens of 6000K color temperature light and is sealed up (IP67 rating) in an aluminum housing with heat fins, illuminating the world through a polycarbonate lens.
The wiring was easily accomplished once I read the brief instruction sheet ... twice ... to make sure my assumptions were correct. The kit comes with a "plug-and-play adapter" that connects to the cigarette lighter wiring, allowing you a fairly simple wiring solution ... provided you can easily dig down into your dash far enough to get to that cable. I chose to ignore that part of the wiring and, using the switch that came with the kit, just wired it all up to the switch which I placed at a convenient spot on my panel. The harness comes with two fuse holders, one with a 30 amp fuse for the lights and another with a five amp fuse for the control relay. I had it all done, hole drilling (for the switch) and all, in a couple of hours.
And they are
briiiiight

!

Rhino Rack Backbone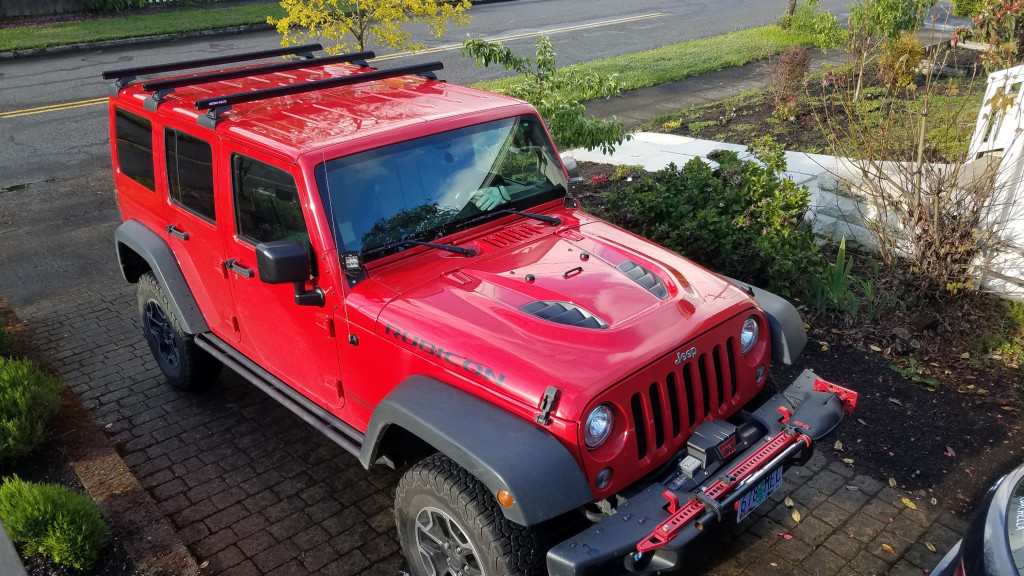 Portland, Oregon, 6 May 2022.
The first step towards a solid roof rack system is the mounting points. This is a Rhino Rack Backbone for the JK series Jeep Wrangler, known officially as the Heavy Duty RCL Black 3-Bar Backbone, Part No: JC-01316. Dynamic (in motion) load rating 265 pounds, static (at rest) load rating 800 pounds. These crossbars bolt through the fiberglass top to the metallic structure of the vehicle, using hardware supplied. Here's the installation instructions. It's pretty robust. The installation was done cleanly and fairly quickly at LoLo Overland Outfitting in Troutdale.
I was originally intending to put a rooftop tent of some sort on these bars, but have re-thought that in favor of just using it for storage of various tools and equipment not normally needed in the cabin of the vehicle. I haven't yet finalized whether I want a basket or platform style rack, so this is part one of a two-part installation that is still in the design stages.
Thanks to our friends Jenn and Ron for putting us up (putting up with us?) while the LRB was being tended to.

Trailgater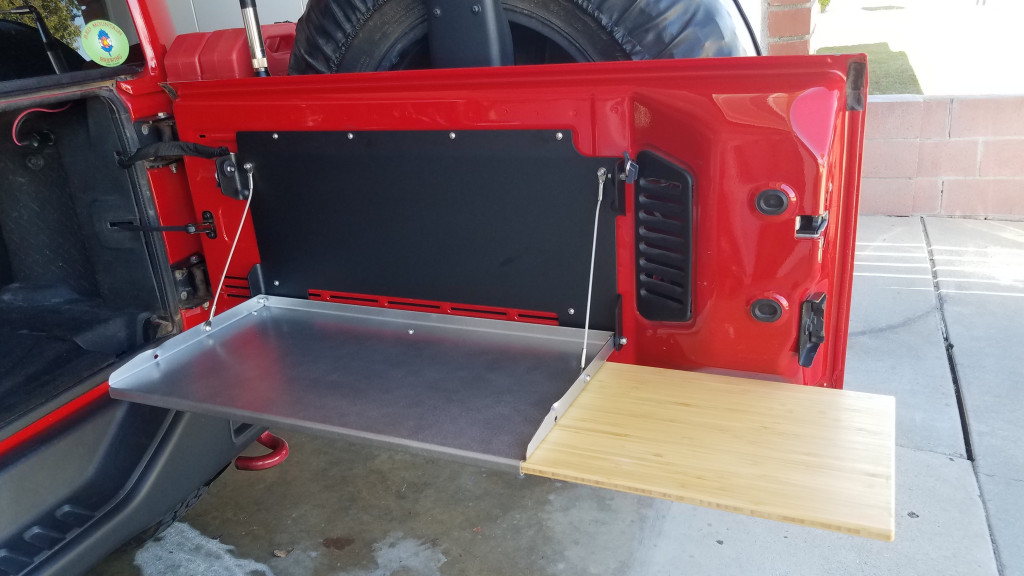 Both images 8 July 2022.
I bought this product from Trail Recon. You YouTube fans may recognize the channel name, Brad is well known in the off-road and overlanding circles. At his web site he's got all sorts of gear for people into off-road / overlanding, and that is where I found The Trailgater. These are made by Outback Adventures for the Jeep JK and JL, and more recently for the new Ford Bronco. The one shown here is the black painted version with the bamboo cutting board for the JK.
It makes a decent camp kitchen, but also a decent workbench. Load limit is 65 pounds, and the fit and finish is excellent. It feels really solid.

I'm sure there's more things I can't live without that I just haven't seen on someone else's rig yet, or thought of myself.
Coming up sooner than later will be another set of tires (I'm on my third, closing in on 95,000 miles ... yep, we off road some!). Now that the LRB sits a little straighter, I was thinking of getting some BFG KO2s, or maybe the KM2, in 285/75R17. My current KO2s are 255/75R17, which are 32.1" by 10". The new ones would be 33.9" x 11.5". I'm not sure if I'll need new wheels to provide any additional offset or not, but I think I will not. I'll seek professional advice on that, and when the new tires are on I'll let you know how all that turned out. One thing I already know ... ka-ching! They ain't cheap!
Of course, we're talking about modifying the interior with some products from Goose Gear to facilitate the installation of a Dometic CFX3-75DZ refrigerator / freezer, provide some additional options for storage, and leave a flat deck behind the front seats suitable for canine occupancy. ¡Woof, cousins!
I've been thinking about replacing the stock driveshafts with something a little stronger and more reliable for towing, too.
As I get these things done I'll put up the detail here.

Until then, see you on the trail!