SC's Pseudo-Blog
28 April 2023
My announcement about BT33 was met with a deafening silence. It's still sitting on my desktop ...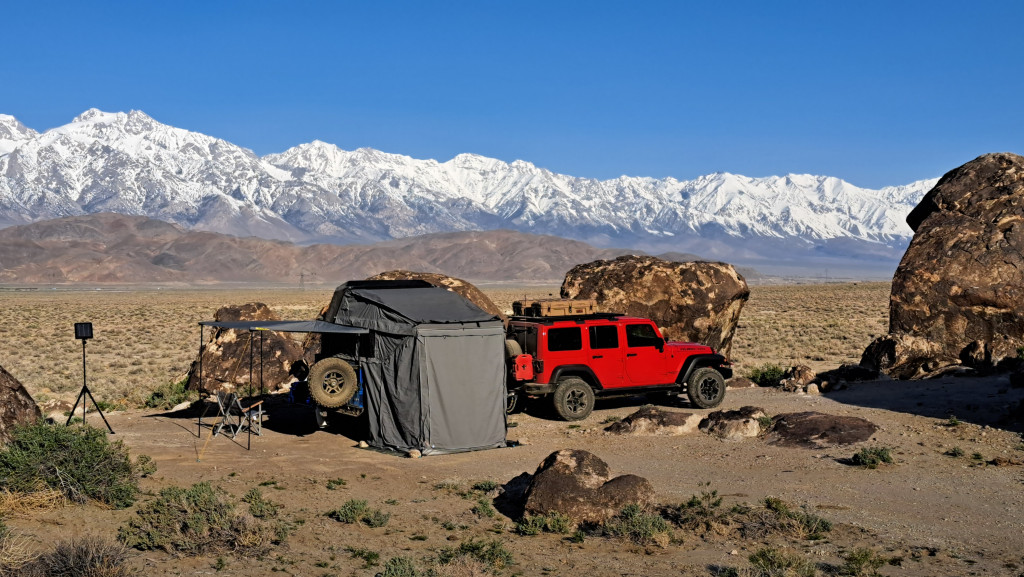 The eastern Sierra crest from the southern Owens Valley, California. View looks slightly north of west, 14 April 2023. Coyotes love this stuff ...
Meanwhile I finished all my winter work on the Little Red Beast, and La Conejita and I recently took our new camping toy out on a shakedown cruise to the Owens Valley. It snowed on us the morning we left home. It was cold and gloomy all the way across Siskiyou Summit, but by the time we got to Yreka the sun was shining under broken cloud cover that disappeared by the time we crossed Lake Shasta. The CV was sunny and warm, with some haze. We had some minor problems with the trailer brake controller along the way (loose ground connection), and the hot water heater gave us some fits in camp (which we corrected), but all in all it was a wonderful experience. The X1-H performed flawlessly on highway and on the trail, and the newly installed trailer connections and brake control equipment have dramatically cleaned up things and improved handling. The hitch mess that brought us home from Utah has also been done away with. The new hitch hardware makes things more secure and less piecemeal, and facilitates fully opening the tailgate of the LRB while the trailer is hitched up. Gotta have quick access to the refrigerator / freezer in the back of the LRB, y'know ... coyotes get thirsty out on the trail.
So we are well pleased with the entire combination, and are actively planning our next trip, hopefully to launch before too much of the month of May gets away from us.
Snow in April, you ask? Well, that was then. Yesterday's high here was 93°F! Today's forecast predicts the same value, which means it'll probably be closer to 95°. We'll see. But the weather-guessers are calling for rain by Monday, with a forecast high of 58°. I wish Ma Nature would make up her mind.
Curious about what I've done to my ol' Jeep? Check out the Rubicon page ...
Be well, amigos! Maybe we'll catch you on the trail!
---
6 February 2023
Heads UP!
I just posted this to the B-Team thread at the PF Forum:
Good news, my friends.

In three days it will be exactly six years since I last posted a chapter to The B Team.

That's not good news. The good news is that tonight I have begun BT33. It'll be complicated, so it'll take a while, but hey. I'M WRITING AGAIN!

Things could be worse, right?

Stay tuned ...

SC
And that is actually wrong ... I last posted on 9 January 2017, so it's already been more than six years. But that's not the point, right?
Elsewhere I am progressing with the LRB. Before the end of this week I will have the air lift suspension completed. After that the only trailer-related project I have left is installing the trailer brake controller, which should be fairly painless, all things considered. Stay tuned for the shakedown!
SC ... out!
---
14 January 2023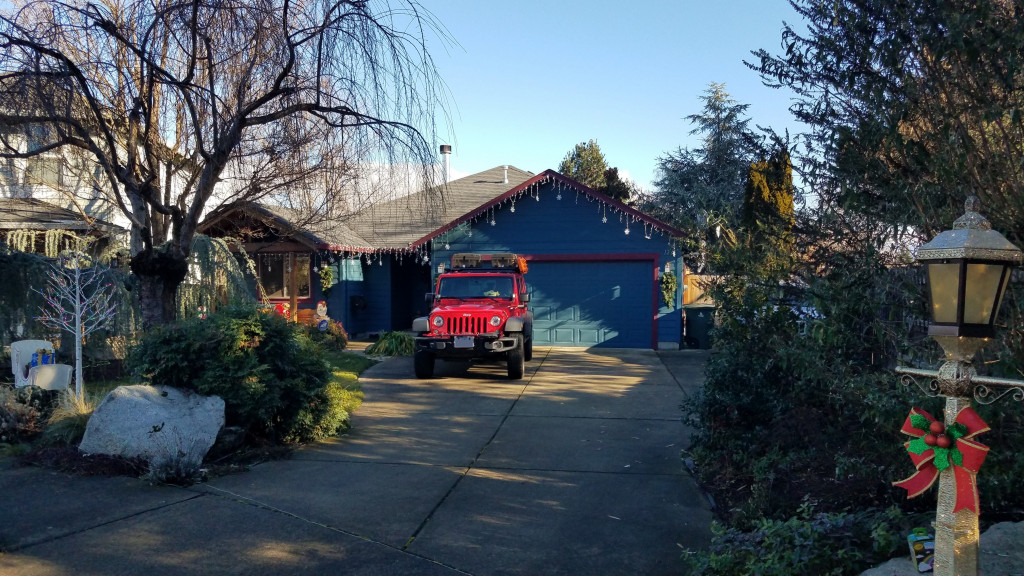 Some quiet down-time on The Range this winter. Which is not to say we haven't been doing much, we've been busy. The weather, however, gets in the way of some of the projects we have to work on. In my case, it's difficult to crawl around on or under the LRB or the new toy (the Patriot Campers X1H, which we have yet to give a name to) when your working surface is cold and wet. Even so, once in a while we get a day of scattered clouds and winds from the south. Like the Santa Ana winds where I used to live, these south winds are down slope, so they're usually warm and tend to dry things out for a while. When that happens I get to work on the LRB, before the weather changes back to its more normal mid-30s and wet.
I've been doing a lot of work on the LRB to support our off-grid adventuring. A lot of it is detailed on the LRB page, but most recently I've installed two switched electric DC circuits ... switched meaning they only have voltage on them when the engine is running. One is a 10 amp circuit that supports the Goal Zero power system for the refrigerator in the LRB, the other is a 30 amp circuit that charges the batteries in the X1H (trailer) power system. That circuit is independent of the 7-pole connection between the LRB and the X1H that will operate all the lights and the electric trailer brakes.
There is no discussion about this most recent work at the LRB page yet, so I will briefly describe the two systems here for those who are interested:
The LRB carries a Dometic CFX3-75DZ refrigeration system in it. This is a refrigerator / freezer which can be powered by either 12VDC or 115VAC. In the vehicle it is connected to a Goal Zero Yeti 1000, a one kilowatt battery-powered device that can provide power in three formats:
5VDC up to 2.4 amps via USB ports
12VDC up to 10 amps via a 6mm coaxial jack, a "cigarette lighter" style jack, or an Anderson power Pole connector
115VAC via a built-in 1500W inverter and standard AC receptacles
Note that the Yeti 1000 was discontinued recently by Goal Zero, and has been replaced with the Yeti 1000X.
Goal Zero also makes several other devices like ours, which they call "Power Stations." Check out their offerings if you're interested. They also have a couple of different methods of charging the Yeti 1000 from a vehicle ... enter my 10 amp circuit mentioned earlier. We had purchased a "charging cable" that plugged into our vehicle's cigarette lighter in the dash, but this not only cluttered up things in vehicle, but also tended to work it's way out of the lighter socket enough to become intermittent or disconnected (sometimes actually falling out) due to the vibrations one would expect to occur in off-road driving. So I ran a switched circuit from the engine bay into the cabin, removed the cigarette lighter plug from the charging cable, and hard-wired it all together. Then I located the bulky part of the charging cable up under the dash and ran the rest of the charging cable back to the Yeti 1000 under trim panels and the Goose Gear decking. So now there is no clutter, everything is permanently connected and ready to go, and the Yeti immediately starts charging as soon as we crank up the engine. Yay.
The X1H is capable of taking up to 30 amps of charge current for it's internal power systems from a 12VDC source on the tow vehicle. The heart of the X1H power system is the RedArc TVMS1280-NA Total Vehicle Management System, which includes the RedVision DISP4300-RC Display Unit. This equipment controls the BMS1230S3R-NA Manager 30 battery management system as well as the Cotek SP-1000 pure sine wave inverter. It is a sophisticated system that uses two 125Ah AGM batteries to provide 5VDC (USB port), 12VDC, and 125VAC power to users of the trailer. The display panel allows users to control all of the interior and exterior lighting as well as the on-board refrigerator, air compressor, water pump, and diesel-fired hot water heater. An app for the user's cell phone allows all that stuff to be controlled from the phone ... handy when you're up top in the tent.
The RedArc system can be charged from any combination of three different sources: solar panels, 12VDC from the tow vehicle charging system, or 115VAC shore power. The solar power is provided by a 100 watt solar panel on the roof, and up to an additional 250 watts of solar generated power can be connected via an external connection for a total of 350 watts of solar charging power.
The second DC circuit I installed in the LRB takes care of the 12VDC source from the vehicle charging system. I used AWG6 cable for that circuit, and ran the cable down the right side of the vehicle exterior from the engine bay to the hitch receiver, where the connector will be permanently mounted (I haven't received the part for that yet).
These two circuits are each switched by individual 125A relays via fused inputs in the engine bay. It's taken a bit of work getting it all installed and operational, but the ease of use moving forward makes it all worth the effort. A lot of the information about these charging circuits, with images, will eventually get posted to the LRB page, along with some detail about unrelated mods I made to strengthen the tailgate door. Stay tuned for that ...
I have one electrical project left ... getting the 7-pole connector for the rest of the trailer functions (marker, run, brake, and turn lights, and the electric brake system) installed. I have the factory cable harness for that task, it's just a matter of plugging it in to the vehicles existing cable harness and pulling a few cables up into the cabin or engine bay for power and brake controller feed. More on that when I have relatively comfortable, dry conditions for that outside work.
Meanwhile, mi conejita has been busy getting the X1H ready to roll by getting it loaded up with everything we'll need for making a comfortable camp, eating a good meal, and getting a good night's sleep. Coupled with the roof storage boxes on top of the LRB, we shouldn't want for much while we're off grid.
As we get closer to more agreeable conditions for that kind of activity, we'll start making some short runs into the the eastern desert, just to shake down everything and make sure we haven't forgotten or overlooked anything. After that we'll load up the photography gear and start exploring for real. We're already impatient.
Looking beyond our own immediate environs, we've been closely monitoring the weather situation in California. My kids, all in the Los Angeles basin, haven't suffered any serious issues with all the rain, but they are getting a lot of rain down there. Not as much as the central and northern part of the state, but a lot more than they're used to, none the less. A cousin of mine that lives in Riverside County has had some minor flooding on his property, but nothing destructive or problem-causing.
But holy cow, look at the rest of the state. Landslides, sink holes, washouts, whiteouts, floods, high winds, tornados ... looking at the CalTrans QuickMap, the state is a mass of chain controls, highway closures, and highway incidents from one end to the other, and the tweets from CalOES just keep coming about flooding, the continuing barrage of storms that are lining up out in the Pacific to take their turn trying to drown the state, and the various counties that are all declaring states of emergency because their resources are overloaded ... in some cases on a staggering scale.
Don't get me wrong, we're getting some unusual amounts of rain and snow here in southern Oregon as well, but nothing on the scale of the beating California is taking. And we have it nice here locally ... except for the high winds. We've not had much rain this winter, and absolutely no snow even though we saw a couple of weeks in December with highs near freezing and lows down to 20. We live in a "banana belt," it seems, a rain shadow brought to us by the Siskiyou Mountains to the south and west of us. The Oregon coast has taken a pounding, to be sure. US-101 in our state is enduring it's share of landslides and shutdowns, and some of the coastal communities (Port Orford, especially) have put up some sizeable numbers of rainfall totals, but we're not getting overloaded like California is. Here in the southern Rogue River Valley life is sweet if you don't mind the wind gusting above 60MPH. And for the conejita and I, well, we both grew up and through middle age with Santa Ana screaming in our ears and doing his best to bowl us over, so 60 MPH here seems like a pretty good breeze. Some downed trees and the associated power interruptions are the worst we've heard about or have had to deal with.
But we miss the snow. Last year we had a white Christmas. This year, no. And no snow is in sight. Until the Pineapple Express valve gets closed, all we're going to get is some rain and a lot of wind.
But we're healthy, things here are calm, and family is safe. We had our cousins and some friends over for Christmas dinner and an enjoyable evening. A week or two later there was an open house for a neighbor who has only been here for three months, and we got to hang out with a lot of the folks who live immediately around us for a while, and that was a lot of fun too. It has been a great start for 2023 so far, so we're good.
We hope 2023 has been good for you all as well, and that it will be a year of peace and contentment for each of you, whatever that looks like.
Maybe we'll meet on the trail somewhere!?
---
11 December 2022

Somewhere on I-80 between Salt Lake City and Wendover, Utah. 1 December 2022. It's cold and windy ...
So we checked out some stuff in Salt Lake City, and came away with some of it. This thing you see behind the Little Red Beast is an X1H overland camper rig, made by Patriot Campers of Australia and sold in my country by RVs of America in Lindon, Utah. This new addition to our adventure crew will foster great changes in how we recreate. Traditionally when we explore trails in the outback, we have to tailor our day to depart from and return to some sort of "base camp" (typically a motel, or a friends home). This means we can sometimes give up three or four hours of our day just getting to the trailhead or point of interest. No more. Now we can haul around our base camp with us. Stay tuned for more here in the coming months (as soon as the weather cooperates) as we begin the new adventure!
We didn't get to do the Promontory Trail, or either of the other two off-highway routes I had identified for our enjoyment while transiting Utah and Nevada on our way home. The aforementioned weather took care of that. We hung out in Lehi and monitored the weather, and beat feet westbound when we identified a break in the series of storm systems that were marching across the Great Basin. Even so, we had the joy of a driving through a pretty good snowstorm for about 45 minutes, at night, east of Winnemucca, Nevada. This was a new experience for La Conejita, and she found it a little unsettling. Probably because neither of us could see anything outside of the illumination of our headlights, and even within that illumination we really couldn't see much except for the lane-dividing stripe on our left and the fog line on our right. And to top it all off, we got to drive through a miles-long construction zone in the middle of it all.
I'm no stranger to driving on snow and ice, and have driven through my share of snow storms, but not in the blackness of the Nevada desert at night. It was challenging, I'll give you that.
And that wasn't all. Two days later we got to repeat the adventure in the northeastern corner of California as we attempted to beat another storm system home from Susanville, CA. Unfortunately it caught up with us, so by the time we were southeast of McCloud we were once again in a pretty good snowstorm. At least it was daylight, but even so it was slow and tedious going. But then, once we got over Black Butte Summit on I-5 and got north of Mount Shasta, we wxperienced a weather reversal as the temperature went up, the sky cleared, and the road became dry. From Weed north beyond Siskiyou Summit it was a beautiful day, perfect driving conditions which included a pretty brisk tailwind. Both the LRB and my wallet appreciated that assistance.
Yep, fuel effeciency is not something I'll be bragging about towing this thing around. But the opportunities it offers us, the fun we'll be able to have being off highway for days instead of just hours, will more than make up for it. So stand by for springtime (which for us starts sometime in March), I'll be blogging some about our exploits.
---
13 November 2022
I updated the Little Red Beast page today, after spending a couple of days getting a platform-style roof rack on my Wrangler. A lot of the work I've been doing with my rig recently has been in preparation for a road trip La Conejita and I will be on at the end of this month. It'll be a big loop, first to a Thanksgiving gathering at my cousin's place in Altadena, then north to the Salt Lake City area to check out some stuff there, then west-northwest to home via some interesting places. One of those places may be the Promontory Trail around the north side of the Great Salt Lake from Corrine, Utah west to near Montello, Nevada, thence to I-80 westbound. The Promontory Trail is rich in the history of the first Transcontinental Railroad in my country, and I've never seen it. So we must go.
Of course, weather will be a big factor in how much fun we have off-road. Too early to guess how that will factor in. But we'll be rigged out with all our gear, including cold weather survival stuff, so it shouldn't be too bad unless we get into mega-mud (some areas of the trail are marshy most of the year to begin with) or white-out conditions.
So stay tuned ...
---
9 November 2022
Hi guys, Welcome to The Range. Or welcome back if you've been gone for a while (like I have) and are returning (like I am).
It's been very quiet here on The Range, but we've been busy in RL. Here's the short list ... "The highlights of the $&)#ing highlights, Mr. Wu!" (I'll buy the first fur to identify the character who uttered that quote a drink of their choice when next we meet.)
My mom passed the end of May, exactly a month before her 97th birthday. She went perfectly ... comfortable and safe in her own home, with family and hospice / care-giving staff attending, and most importantly in her sleep ... gently and peacefully. She wasn't smiling, but neither did she look to be in pain or any kind of physical or mental distress. She just ... stopped breathing. As you might imagine, conditions and events precipitated by her passing have occupied a lot of my time, and some of the financial ramifications of the estate disposition are still on my desk, waiting for one reason or another to be completed. More gray fur for the old dog ... But our last trip down there was good for her, too. We had arranged to have all three of my pups and their families there, and she got to meet her third great grandchild. Someone took a picture of the two of them ... it's hard to look at because the last year of her life was hard on her appearance ... but she was happy and smiling. That was two weeks before she passed, and it was nearly the last time any of us had any meaningful interaction with her. Within a few days she was sleeping all day and half the night, and when she was awake she was uncommunicative.
She's happy now, with my dad ... wherever that is. We are relieved and happy that her battles here are over and that she has rejoined all of her family. Enjoy the next stage, mom. You had a good run.
We have concluded our cargo runs between southern California and southern Oregon. So committed to this cessation of 1500 mile round trips were we that we immediately got rid of the cargo trailer. We must have put at least 20,000 miles on the LRB making those runs. It added a few more strands of gray to the old dog's head, and burned who knows how many hundreds of gallons of fuel. Me, I don't want to remember, but any time I look at my bank statements I'm reminded. Glad that's done. And we brought so much stuff up here we had to rent a second 10x10 storage unit to store it all in! I keep hearing about how we're going to go there and "grab a few boxes, bring them home, go through the contents, donate, save, or trash whatever it is, and slowly work through all the stuff that's in that second storage unit.
Go ahead, ask me how many trips we've made to that unit for that purpose ... <grins>
More recently La Conejita sold her house in Chatsworth. She had been stressing over the disposition of that house for a few years now, furiously throwing money at it while it sat vacant, and it's departure from her list of things to worry about was welcomed by all hands here. Talk about a reduction of stress! WooHoo!
And of course we're all caught up on our shots. In fact, all things considered, we're pretty darn healthy, and pretty darn happy. El Coyote Mas Grande Y Viejo, y La Conejita Mas Fina Y Preciosa, indeed.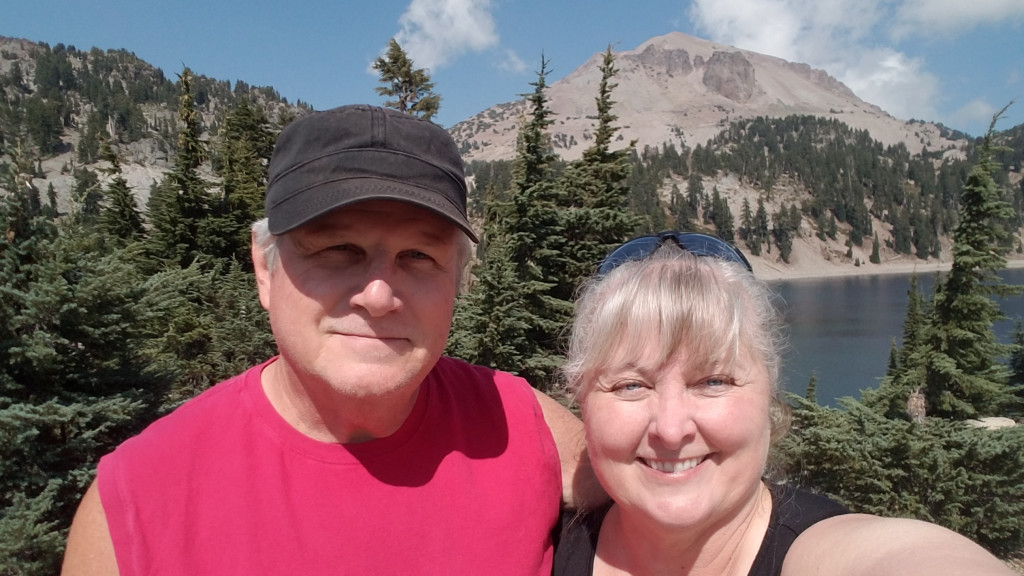 Unfortunately, virtually nothing has been going on here at The Range, as I said. No writing of any kind, although I regularly have great ideas about how to pick up the threads of two or three of my efforts. Unfortunately that almost always happens when I am unable to make immediate note of those ideas, so many of them pop into my head, I exclaim Ah-Ha!, and then they continue on and immediately fall out my other ear. Forgotten. Such are the tribulations of a fur in his 60s.
We have been doing some traveling, though, and plan to do a lot more. A by-product of that may be some images popping up here once in a while. That seems to be where my excuse for "creativity" is manifesting itself these days, through the lenses of my Canon 5D. Images like this: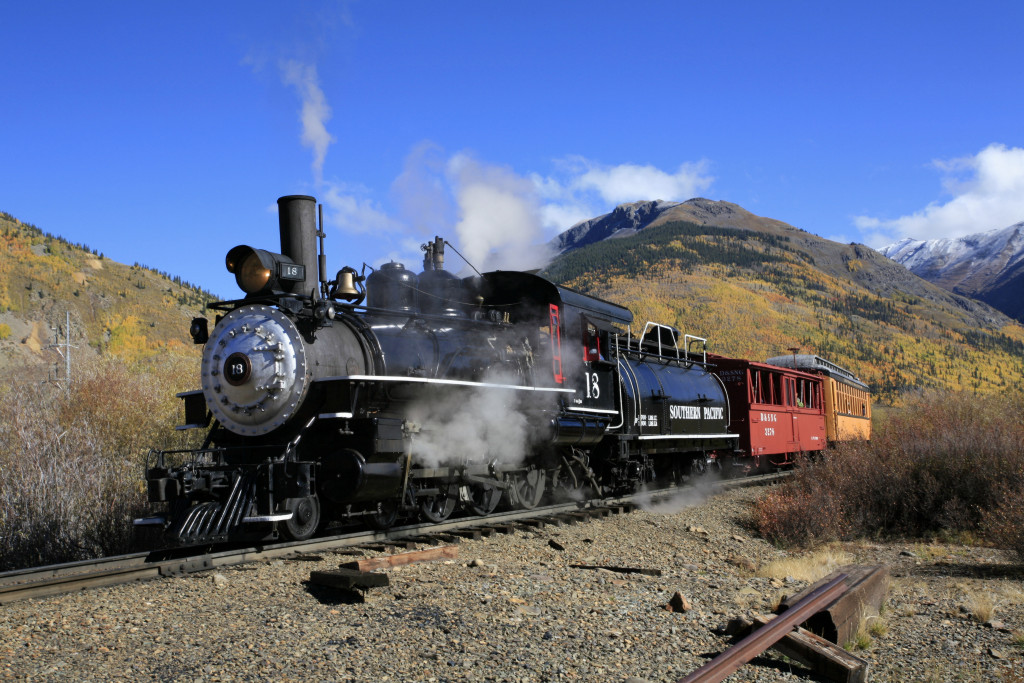 Not too bad looking for an oil-burner outshopped 110 years ago. Image taken on a gorgeous fall day last year in one of my favorite places, Silverton, Colorado.
We'll be spending a lot more time off-road. Very soon we'll be up near Salt Lake City checking out a particular line of overland trailers. If conditions are right and the General Overall Director sees fit to honor us with that kind of lifestyle, we may bring one home with us. Next spring we may not be very visible around the homestead. And if we aren't, the production of images will very likely ramp up. So stay tuned if you're interested in hearing about where we've been.
Or if you've got any other reason to hang out. I miss the days of the genre-fueled camaraderie we all used to enjoy at PF and elsewhere. I made some good friends there, and still manage to exchange emails with some of them now and then. I'll try and post here a little more often, and ramp up my presence at the PF forums, and see what happens.
Or, I may be out in the sticks somewhere, giving the LRB free reign and just tagging along for the ride. If you see us out there, be sure to stop by and say "Hey!"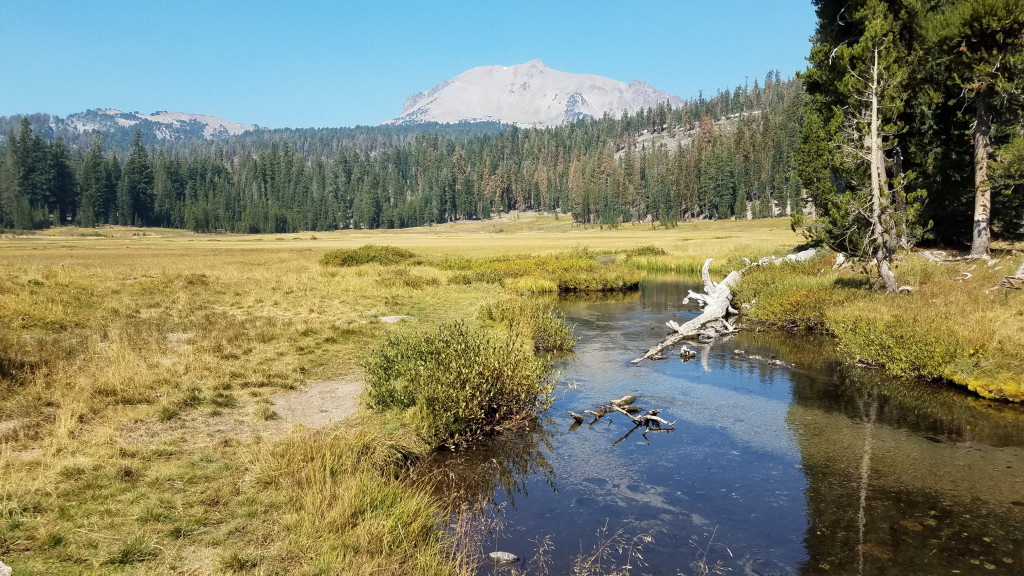 Catch you then!
---
Don't care to communicate via the PF Forums? Email me!